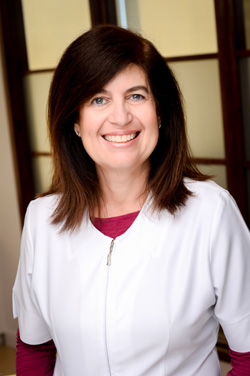 Dr Madelaine Shildkraut,
B.Sc, D.D.S., M.CL.D. Orthodontiste
Dr Madelaine Shildkraut has been practising as an orthodontist for over 25 years. My journey began as an orthodontic patient during my teenage years. I wanted to be able to bring joy to as many individuals as possible. I graduated in 1991 with a BSc from Concordia University. I received my dental degree from McGill University (DDS) in 1988. I then continued my learning the year after as a dental resident at the Montreal Children's Hospital. I obtained my graduate orthodontic degree (MCl.D.) from the University of Western Ontario in 1993. I entered private practice upon graduation and also became a member of the Cleft Palate Team at the MCH.

I am an associate professor at the McGill University undergraduate orthodontic clinic since 1999. I am also president of the Quebec Association of Orthodontist's for the year 2018-2019.
"I am privileged to have been able to treat so many patients in so many different clinical environments. A smile is one of the prettiest things that you can own." - Dr Madelaine Shildkraut
<< Back